Significant Project Features
Mechanical dredging and dewatering of 240,000 CY of sediments from Crafts Creek and Back Creek Channel.
Remediation was executed on a phased approach to comply with time constraints established by the client due to fish passage window.
Construction of dewatering areas for dredged sediments.
Transfer dredged sediments via sealed trucks to onsite storage located at former plant slag area.
Placement of a sand cap in dredge areas of Crafts Creek.
Wetlands restoration and rip rap placement.
Project Gallery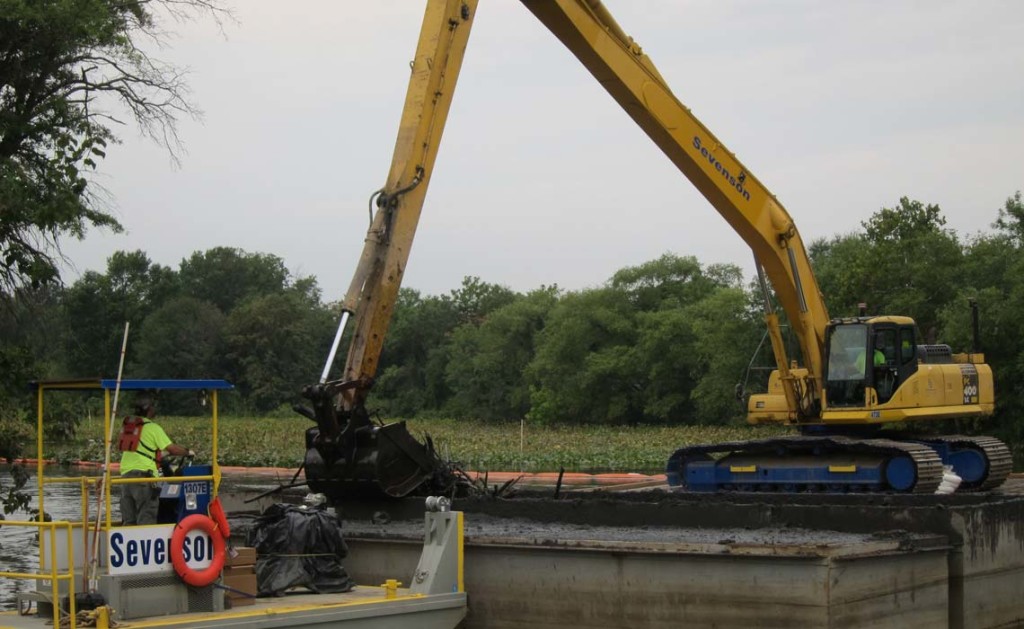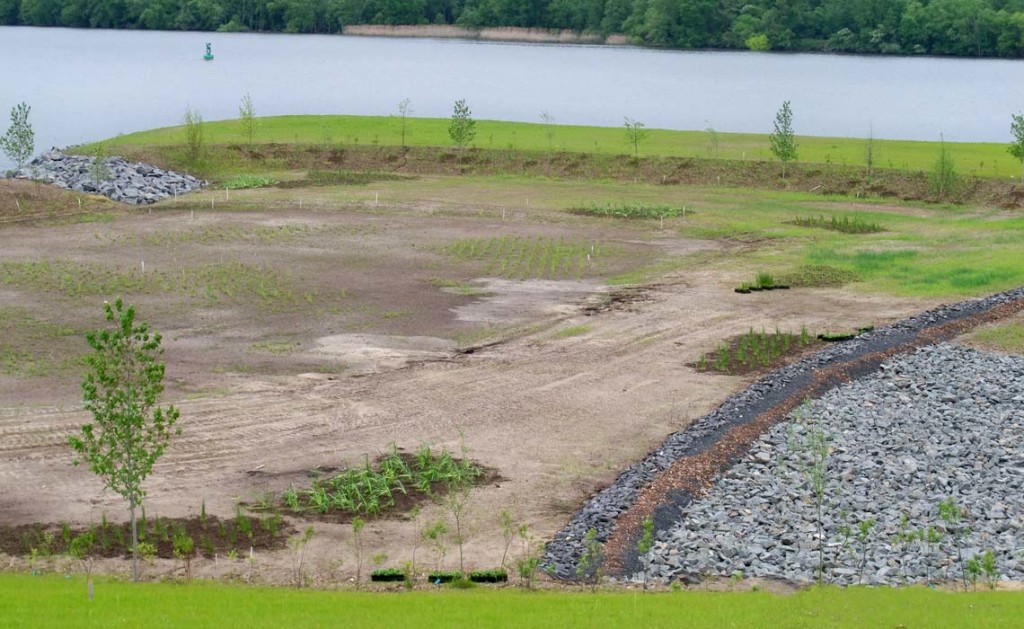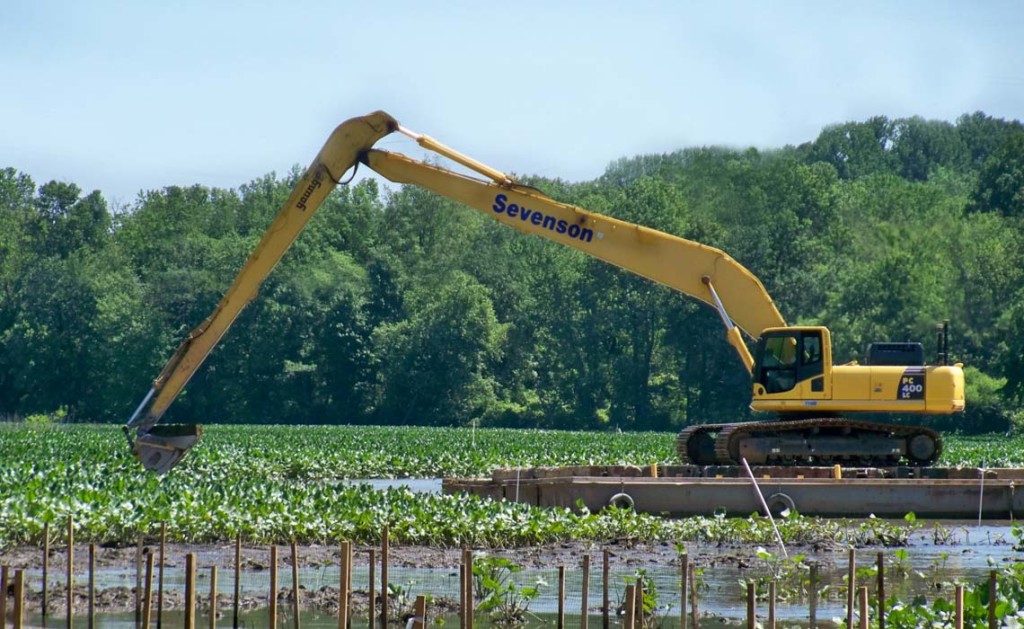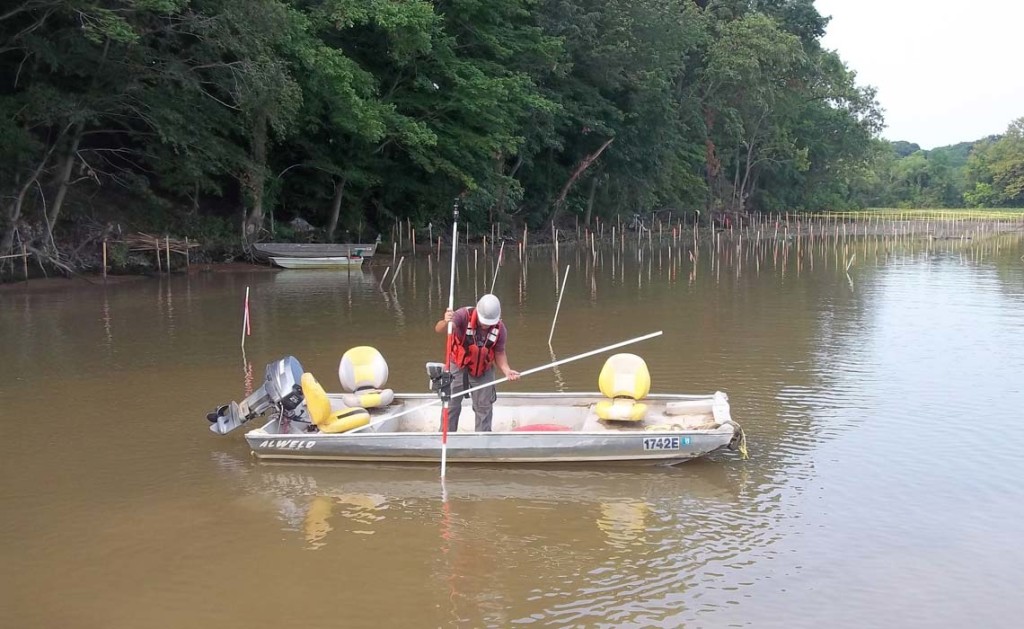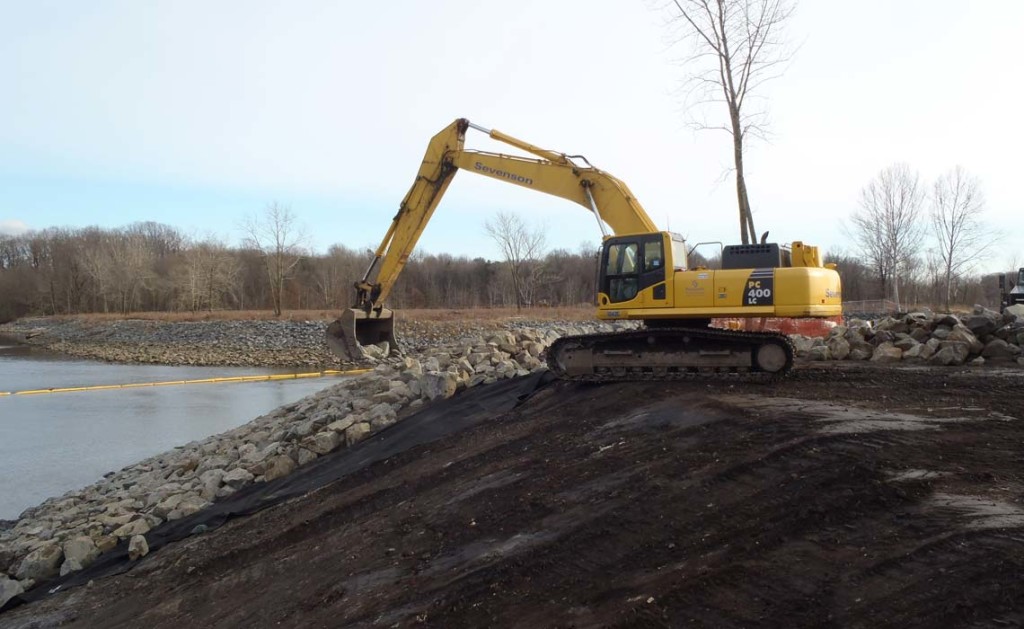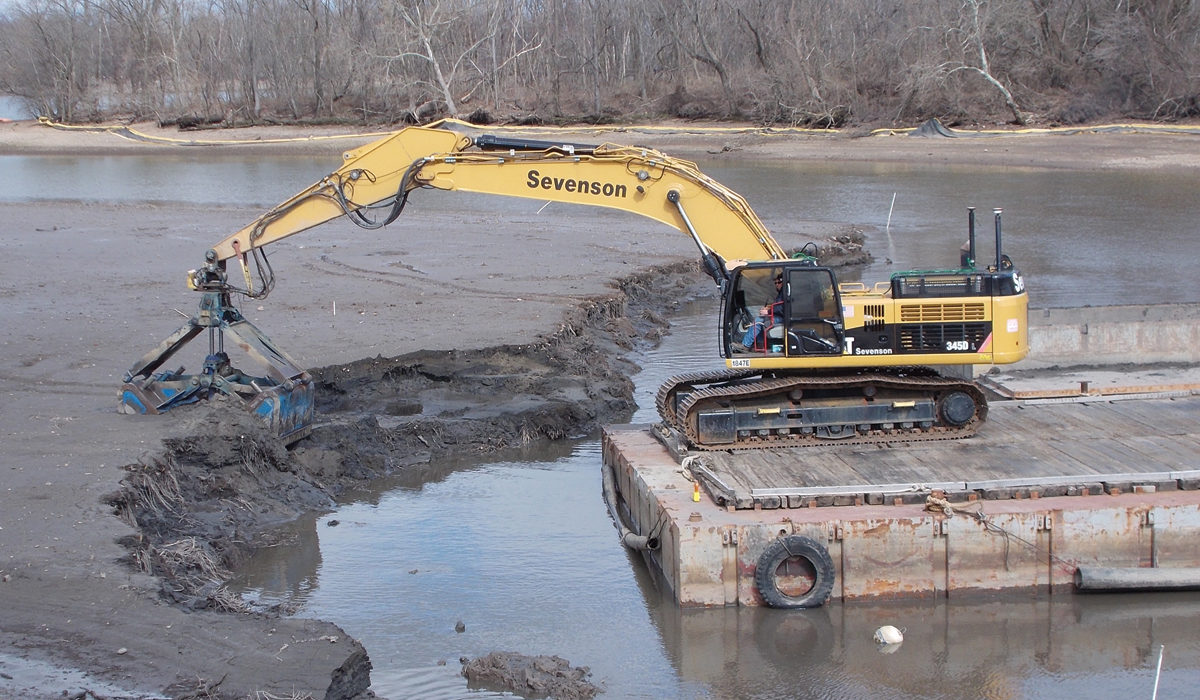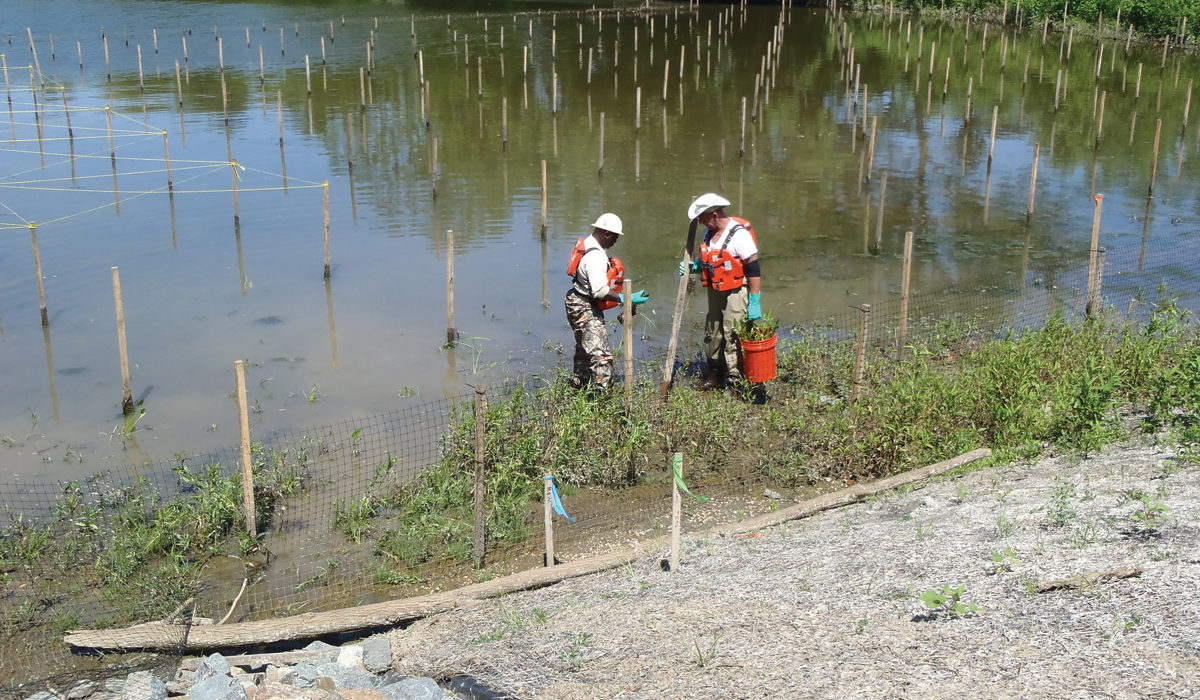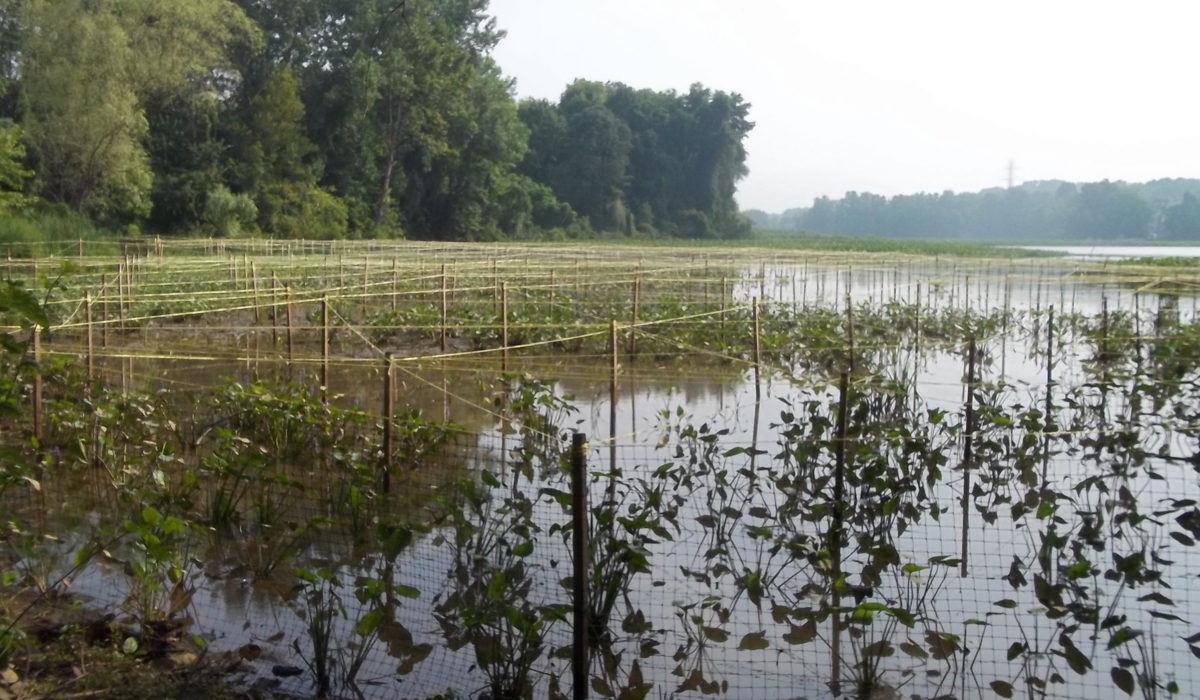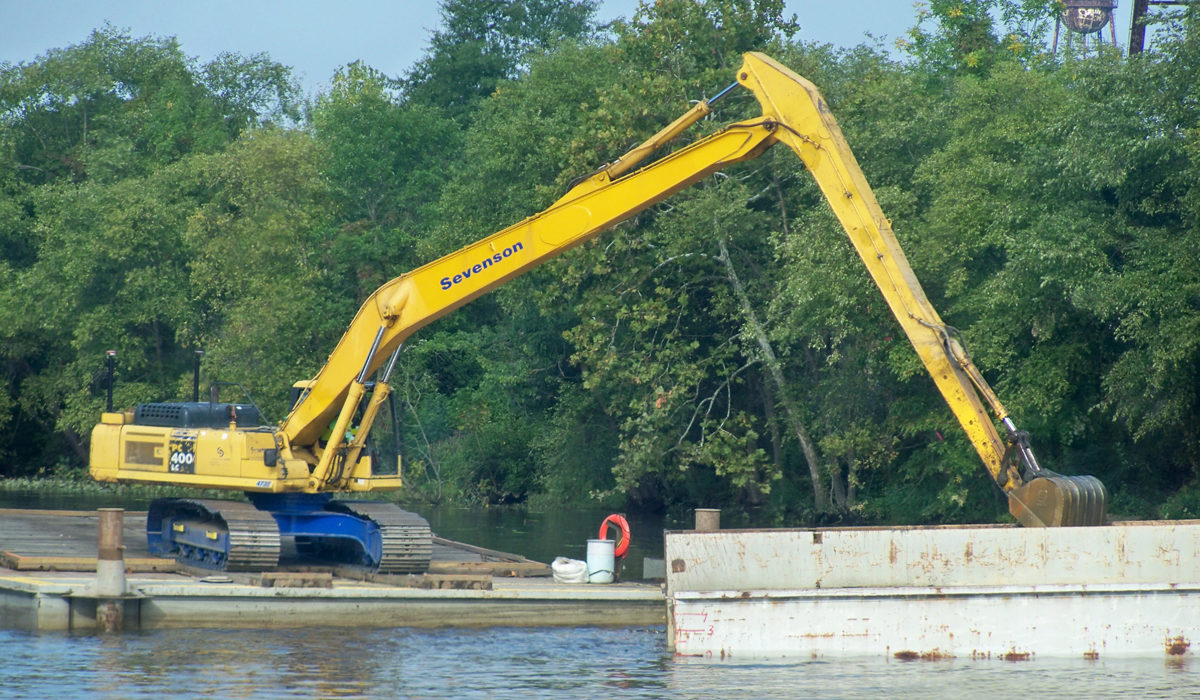 History & Location Details
Successfully completed a total of 514,248 Safe Man Hours and 1,848 days with ZERO lost time work accidents or injuries.
The project received the State of NJ Governor's Occupational Safety and Health Awards for calendar years 2011 and 2012.
Project Description
The scope of work required Sevenson to mechanically dredge sediments from Crafts Creek and Back Creek Channel; dewater the sediment; transfer dewatered sediment to the former slag area for onsite storage; install a sand cap; and restore disturbed areas. Prior to initiating dredging operations Sevenson delineated work zones and established a perimeter air monitoring system. Support and access areas were identified as well as installation of temporary fencing and utilities; construction of equipment and material staging areas; erosion and sediment control measures; bathymetric and topographic site surveys; traffic control measures; WWTP; and, construction of dewatering areas for dredged sediments from Back Creek Channel and Crafts Creek. Sediments were mechanically dredged using a 1.5 CY environmental bucket mounted on a CAT 345 excavator and staged on dewatering pad then transported to Slag Area OU3 for onsite storage. Wetlands disturbed by remedial activities were restored.
Debris Removal
The project included large scale debris removal along the entire shoreline, which was necessary for preparation of the slope for revetment installation. Approximately 265 tons of timber debris was removed and disposed of at a Sub-Title D disposal facility. The large concrete debris was sized and re-used on-site for backfill materials. The large slag debris was buried in other areas on-site.
Dredging
Both Crafts Creek and the Back Channel are tidal waters with an average tidal fluctuation of six feet. Sevenson removed approximately 78,000 CY of heavy metal contaminated sediments from Crafts Creek and 164,000 CY from the Back Channel. Sevenson developed the dredging design surface to mirror the bottom of contamination. We used Dredgepack GPS-based software on all excavator dredges to increase the efficiency of sediment removal by minimizing over-depth dredging. This software allowed tolerances of +/- 2.4 inches to be achieved during dredging.
Sediment Dewatering

Dredged sediments were transferred to, and initially staged on, an asphalt dewatering pad for initial drying, and then transported via sealed trucks or off-road dumps for further dewatering and onsite storage. Sevenson enhanced our operations by constructing multiple holding areas (DMMAs) from on-site slag materials. The holding areas were strategically positioned within the OU3 Final Sediment Placement Area (SPA) to allow for high capacity storage of dredged materials from the loaded scows and the dewatering pad, which allowed for the gravity dewatering of the sediments. Sediments were periodically transferred from one area to the next to accelerate drying and dewatering before they were windrowed and placed/graded into the designated disposal area. This innovative approach resulted in accelerating final sediment placement 2½ months ahead of schedule
Site/Shoreline Restoration
Wetlands restoration included the replacement of over 47,000 native plant specimens at specified planting densities over ~715,000 SF of wetland areas that were disturbed during the dredging operations. A Professional Wetlands Scientist was used for the development of a Wetlands Restoration and Monitoring Plan and for supervision/general guidance during the restoration process. Due to tidal influence of the Delaware River into Crafts Creek and the Back Channel, planting was performed primarily during periods of low tide. Uplands restoration included replacement of native plant/tree/shrub species at specified planting densities over all areas disturbed during the support of the dredging and backfill operations. Sevenson obtained all specified plant/tree/shrub species from local nurseries and required them to be inspected and certified prior to delivery. All completed wetlands restoration areas underwent a three-phase inspection process that showed successful re-establishment of plants and habitat in all of the restored areas.
This project is tagged under:
Start a conversation about your upcoming project
 (716) 284 - 0431 
Let's Talk